Dock Equipment
Blue Giant is the premier solutions provider of safe, effective, and technologically innovative loading dock and material handling equipment. Blue Giant offers a complete line of products including dock levelers, ground-level lifts, vehicle restraints, dock and door guards, door seals and shelters, and driver control and safety systems to a diverse offering of material handling products.
McGuire offers a complete line of dock equipment which incorporates the best in engineering and design, materials and manufacturing quality. An Industry Leader for more than 40 years, customers have relied on McGuire to deliver safe and efficient loading dock equipment.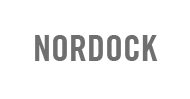 Nordock is a dedicated team of professionals with over two decades of solid performance and a common goal of providing the best possible product for value conscious customers.
Loading Dock Levelers

We offer dock levelers to meet many different needs and budgets. We provide and install both edge-of-dock levelers and pit levelers. Whether you need a mechanical, hydraulic, or air-powered leveler, we can provide the solution for your loading dock needs.